Classes
Berkeley House Language Center's teachers are afforded the unique opportunity to interact with people from almost every walk of life in Japan. Unlike other language schools, Berkeley House is privileged to provide language instruction to just about every type of Japanese student imaginable. After completing our 20 hour (approx.) training course the new Berkeley house teacher will get right into teaching, and earning money. There are generally four types of classes at Berkeley House Language Center.
Below is a brief description of each:
Universities: Berkeley House Language Center (BHLC) has a contract with a number of universities in Japan. Classes can be for students or employees. To teach credit classes, you may need a masters in TESOL or in a related field.
Business/Government: Usually a small group lesson taught at the client's/student's business office.
Schools: BHLC provides both public and private general education schools with native English speakers to assist Japanese English teachers in the classroom.
Private: A number of classes at BHLC are "private" lessons where one teacher teaches one student. The student could be a high school student, housewife, businessmen or almost anyone.
As a teacher at BHLC you will probably have the opportunity to teach all of the above type classes.
Remuneration
Full time teachers at BHLC are required to teach 23-25 hours per week. In exchange Berkeley House offers a guaranteed minimum monthly salary of 250,000 yen  per month. This amount could vary depending on the experience or qualification level of the applicant.
Vacation
In addition to the 15 national holidays in Japan, teachers also receive 10 paid vacation days per year.
Teaching Methods
Berkeley House provides approximately 20 hours training to all new teachers. This training is meant to instill in the new teachers the Berkeley House Method of teaching.
What is the Berkeley House Method? There are many different teaching styles but Berkeley House has found that the most effective method of teaching is the type where the students are given the opportunity to "see" English, not just being exposed to an instructor's monologue or a dry text book.
At Berkeley House we try (especially for those who have yet to master all English grammar structures) to demonstrate grammar points and then give the students ample opportunity to practice using these structures under the watchful eye of the teacher. We strongly believe in giving the students as much speaking time as possible. Furthermore, we try to avoid the traditional method of teaching grammar where an instructor writes rules on the board and the students take notes. We encourage the students to actively participate in class through such activities as roleplays.
Of course teachers are required to teach a wide variety of students. Students with varying degrees of English communication ability. For this reason teachers need to be flexible and imaginative when teaching. However, we do our best to train the teacher how to effectively use a variety of text books and of course we thoroughly go over basic, and effective teaching principles.
Classrooms
Classrooms in Ichigaya are spread out over four floors in two buildings. The classrooms on the second floor of the AK building, are primarily used for private and semi-private lessons. As the students are mostly business men and women, the decor and the atmosphere is formal and professional. The rooms tend to be a bit 'cozy', but each is equipped with a white board and a CD player. A video camera and monitor are available if your lesson plan includes video taping presentations. On the fourth, sixth, and eighth floor of the Tanaka building there are several large classrooms. BHLC's well-appointed classroom's and facilities will make your teaching experience easier and more enjoyable.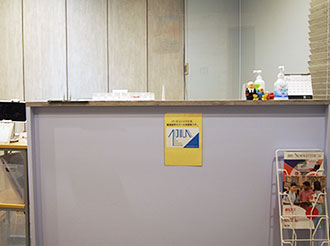 Entrance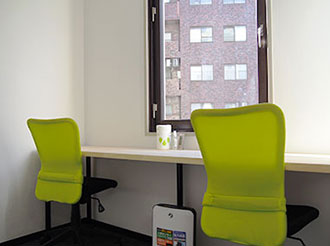 Room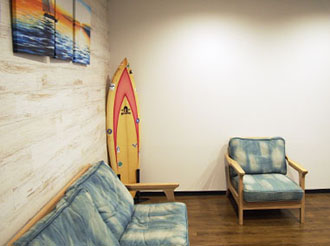 Lobby
Berkeley House Teachers
One of the main strengths of Berkeley House Language Center, and clearly one if its attractive points is the variety of instructors that work here. This variety comes in many forms. BHLC teaches more than 40 languages and as a result, BHLC teachers come from various countries. Plus diverse ethnic backgrounds, age groups, and so forth. An unifying factor, however, is the teachers' eagerness to teach others their native language and perhaps at times to learn from their students! Most of the teaching programs available at BHLC provide the student with the opportunity to meet several of these instructors, and thus to enrich their learning experience.
BHLC uses its interview process to screen candidates on the basis of past teaching experience and evidence of success. After hiring an instructor, the school provides him or her with a thorough training program for its instructors, and there is a well-defined Berkeley "method of teaching" that everyone must be acquainted with before the working contract comes into effect. In that way the school ensures there is a standard quality level of teaching and that each client will "get their money's worth". At the same time, of course, the school encourages and relies on each instructor to make use of their individuality and personal life experiences to help enrich the classroom. This interplay contributes to BHLC's attractiveness as an language school.
Work at BHLC can be quite demanding at times for the instructors. They do not specialize in one particular type of course (say international business, flight attendant, high school) but rather are expected to be constantly broadening their skills by teaching different types of courses to a diverse array of students. In this manner, although demanding, teaching at BHLC can also be a rewarding, and hardly ever a monotonous or boring, endeavor.